The holy trinity of matchmaking: What makes a match, a match made in heaven?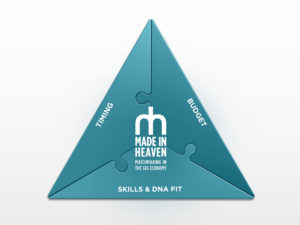 "No duty the Executive had to perform was so trying as to put the right man in the right place." – Thomas Jefferson
In order for a match to be a match made in heaven three elements need to coincide:
Timing
Skills & DNA fit
Budget
A match made in heaven is nothing more, nothing less than having Mister/Misses right, at the right time, at the right place, at the right price.
Timing
As with many things in life, timing is everything.
From experience, there is little planning being done by companies when it comes down to interim resources. When the need emerges, it is usually high. With very little that can be done.
To manage this axe of time, we at Made in heaven proactively manage our database of freelancers. Keeping track of their current activities and contracts at all time. That way, when a request comes in, we can immediately create a short list of available profiles.
Skills & DNA fit
Having the right skills and experience is vital for a good match. Since we used to manage interim projects and project managers ourselves, we know what to look for to get a good match. We look for people that have done the job before so they can jump right in. For us, sending out a CV to a customer isn't a KPI. We aim at a 100% fit and we rather have no match than bad match.
Budget
Providing solutions with respect to budget is key for a match to be a match made in heaven. We believe 'value for money' is a fair principle. We charge a fair margin of approx. 20% compared to the industry standard of 30% or even higher. Companies and freelancers that work with us quickly experience that we do what it actually says on the tin. We do account management, matching profiles, contracting, invoicing and follow-up.
Fair. Easy. Transparent.
Need help in finding your matching interim project manager? Contact us!

We've got interim and project managers for projects in sales, marketing, product management and innovation. We've got the match… made in heaven.